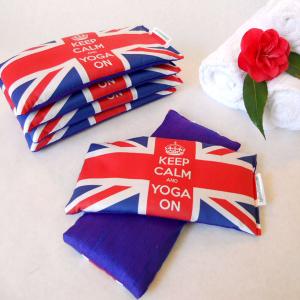 We've adjusted the well-known propaganda poster for these yoga eye pillows! These whimsical eye pillows are perfect for relaxation time at the end of a yoga class! A regal purple colored dupioni silk back contrasts with the colors on the front. Filled with flax seed and lavender, it provides a perfect weight and soothing natural fragrance to help relaxation.
These eye pillows are packaged individually in a own polythene bag with a descriptive label inside.
Suggested Retail Price
$18.95+
Each eye pillow costs you $9.45 each.
Eye Pillow Details
Filling
Flax seed with natural lavender flowers
Fabric
Organic Cotton and Dupioni Silk
Size
4 x 9 inches
Weight
8 oz approx (our eye pillows are filled by volume, so the weight of each pillow may vary slightly).
Usage
Relaxation, Cold Therapy, Yoga
Purchase an Keep Calm & Yoga On Eye Pillow individually.