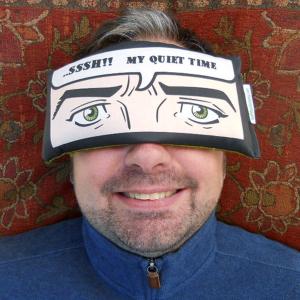 An eye pillow especially for the guys. Covered in a whimsical design that is sure to make you chuckle and filled with the soothing aroma of lavender and chamomile, we're sure that this eye pillow will bring giggles and relaxation in equal proportions!
Backed with a natural green colored dupioni silk backing fabric that feels great against the face and co-ordinates with the design on the front
Give this eye pillow to a special guy in your life.
Eye Pillow Details
Filling
Flax seed with natural lavender flowers and chamomile
Fabric
Organic Cotton and Dupioni Silk
Size
4 x 9 inches
Weight
8 oz approx (our eye pillows are filled by volume, so the weight of each pillow may vary slightly).
Usage
Relaxation, Cold Therapy, Yoga
Get the Gals Quiet Time Eye Pillow too!
Or get the His & Hers Eye Pillow Set!